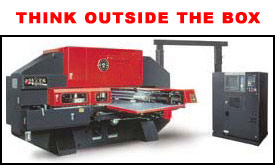 Why should Unipunch Tooling be one of your fabricating options?
Unipunch Tooling is frequently used to relieve pressure on CNC equipment
Unipunch set-ups run some parts faster than a CNC machine
Unipunch set-up templates can be run on your turret press or laser
Unipunch Tooling offers total flexibility and a fraction the cost of hard dies
Unipunch Tooling has very short set-up times – great for repeat short – medium run jobs
Unipunch Tooling can be run on brakes or stamping presses at much lower shop rates than CNC machines
Unipunch products is the world leader in Unitized Tooling
Kraus Company has represented Unipunch since 1980 and can show you how this tooling system will work in concert with your existing fabricating equipment to add productivity and flexibility to your sheet metal processing.
We can provide case studies and sample part drawings to show you how other smart manufacturers reduced their costs using Unipunch Tooling.