Adjustable Die Holder to Reduce Shimming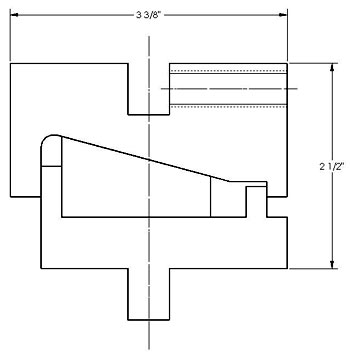 The 0-DFLX Deflection Compensation Holder is a single central point adjustment device to compensate for elastic deformation of the press brake when under bending load.

Fast, easy, accurate crowing adjustment over the full length of the die. Makes set-up quick and flexible – helps profitability meet the demands of today's sheet metal industry:
Shorter production runs
Faster turnaround times
The need to manufacture in a variety of dimensions, bend angles, materials, thicknesses and detail geometry.
This high precision die holder features:
Eliminates the need for shimming
Easy single point adjustment
Integrated flush aperture read out gauge
Reliable single wedge design
Designed to eliminate the infiltration of dirt and debris into the mechanism
No training required
Low profile design saves die "open space"
Ensures consistent accurate angle bending for high quality production runs
Conventional Die Holder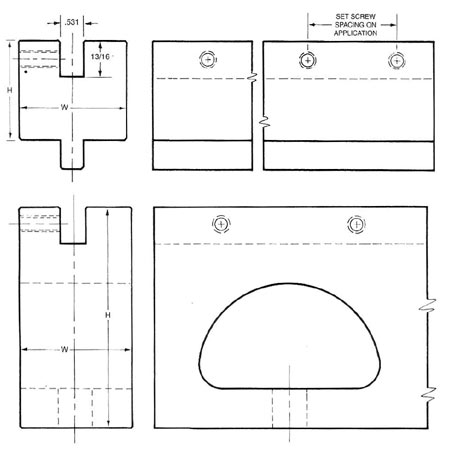 | | | |
| --- | --- | --- |
| Die Holder |   W |   H |
| 200A | 2 | 1-1/2 |
| 200B | 2 | 2 |
| 200C | 2 | 3 |
| 200D | 2 | 4 |
| 200E | 2 | 5 |
| 200F | 3 | 1-1/2 |
| 200G | 3 | 2 |
| 200H | 3 | 3 |
| 200I | 3 | 4 |
| 200J | 3 | 5 |
| 200K | 4 | 2 |
| 200L | 4 | 3 |
| 200M | 4 | 4 |
| 200N | 4 | 5 |
| 200O | 5 | 2 |
| 200P | 5 | 3 |
| 200Q | 5 | 4 |
| 200R | 5 | 5 |
Multi-Vee Die Holders

| | | |
| --- | --- | --- |
| Die Holder |   W |   H |
| 600A | 2-1/4 | 3-1/2 |
| 600B | 2-1/4 | 4-3/4 |
| 600C | 2-3/4 | 3-1/2 |
| 600D | 2-3/4 | 4-3/4 |
| 600E | 3-1/4 | 3-1/2 |
| 600F | 3-1/4 | 4-3/4 |
| 600G | 3-3/4 | 3-1/2 |
| 600H | 3-3/4 | 4-3/4 |
| 600I | 4-1/4 | 3-1/2 |
| 600J | 4-1/4 | 4-3/4 |
| 600K | 4-3/4 | 3-1/2 |
| 600L | 4-3/4 | 4-3/4 |
| 600M | 5-1/4 | 3-1/2 |
| 600N | 5-1/4 | 4-3/4 |
| 600O | 5-3/4 | 3-1/2 |
| 600P | 5-3/4 | 4-3/4 |
| 600Q | 6-3/4 | 3-1/2 |
| 600R | 7-3/4 | 3-1/4 |
| 600S | 10 | 3-1/2 |
| 600T | 12 | 3-3/4 |

AA
AB
AC
Euro Adapters
Z1
Z2
European to American Die Adapter